Long Hours

"Is Long Hours Medor's therapy? If this stuff is therapy God alone knows what this man's background is. Either way, there's an outrageous talent at work here. It's not just guitar and vox, of course but there's other things, a lot of very clever muzzing of instruments going on, that all comes together in a sort of stretched-out highway crash". Robert Brokenmouth, I-94 Bar.
For some, you'll need no introduction, you're already switched on to Long Hours. But for those who might only have heard the name in passing it's probably time to take a closer look at this extraordinary showman, musician, risk-taker and artist. Long Hours is a solo performance project created by Julian Medor. Coined as being LoFi, NoWave, Synth Punk Croon-Core, GothDooWop with a relentless live show and influences inspired by frontmen such as David Yow (The Jesus Lizard), JG Thirlwell (Foetus) and Alan Vega (Suicide) Long Hours is yet another example of home grown talent that is taking Europe and Japan by storm while hardly being noticed in his home town, Melbourne Australia.
This new LP, Never Enough is the 2nd vinyl compilation drawn from Long Hours incredible output. Last count it was 30 + albums, tracks for this have come from albums recorded on the road, in mandatory 2 weeks iso in a Sydney hotel room after returning from touring Japan as covid hit and the almost constant stream of albums coming out of the Long Hours bunker here in Melbourne.
The first vinyl Wayward Serenades [Sept 22] created immediate stir in Europe via French Label, Beast Records and secured not only distribution there, but a partnership with Spooky Records for future releases on vinyl. And the momentum hasn't stopped. 2023 saw Julian tour Japan for the 3rd time before taking Long Hours to Europe for 3 months of relentless touring often tattooing fans along the way to initially stay afloat. As word spread, nights off quickly filled with offers of shows from dive bars to festival spots all eager to get a dose. And there's no doubt it's all been worth it. Culminating with a coveted spot secured at the Binic Festival in France, Long Hours left Europe begging for more. The clip [using Binic Fest footage] for the first single Good Shirt sums up just how much impact Long Hours is having and return tours in 2024 to Japan [March] and Europe [May....] are already booked.
OUT NOW

LONG HOURS - 'Never Enough'
Limited Copies - Black Vinyl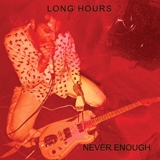 SpookyV022
Second Pressing - Purple Vinyl
LONG HOURS - 'WAYWARD SERENADES'