lost talk

TENTERHOOKS & SYMBOL/SIGNAL still avaliable on VINYL - stock running low.
"Lost Talk are a profoundly exciting band to hear; god alone knows what they'd be like to behold in the actual flesh, sweat, bone and blood" "
I-94 Bar"
"Lost Talk's strong and intense take on noise rock and punk suggests influences from innovative acts like X-Ray Spex and Sonic Youth, and establishes them as one of the genre's very promising new band".
Destroy//Exist" UK.


LOST TALK are a whirlwind of tastes and flavours, each delivering the diverse musical backgrounds of its band members. Driven by feverish, penetrating guitars and a carnally discordant rhythmic section, LOST TALK drag you through the disasters and redemptions of modern life. Amy Mowle's sometimes salty, sometimes sweet, frenetic narration delivers stream-of-consciousness reveries that follow the musical descent into the depths of chaotic dissonance and back. From the irony of destruction, to the beauty of the downfall, LOST TALK's shameless intensity forces you to contemplate the contradictions of existence and the absurdity of your own place within it.
Forming in late 2016 in Melbourne, Australia, LOST TALK was wrought from a repertoire of undead bands, Steven Smith - Guitar (SCUL HAZZARDs), Max Ducker - Guitar (Mutton/Hoarse), Ben Rose - Bass (Narco Paloma/King Crime), offbeat songstress, Amy Mowle - Vocals... new to the game, as well as dual drum responsibilities (usually shared but sometimes traded) between Liz Turner - Drums (Assassination Collective/Jihad Against America ) and Sam Reid - Drums (Bone), Lost Talk deliver a relentless, unique noise-rock set that has appeared presumably out of nowhere.
After a string of successful shows in the band's freshman year, including playing 3RRR's April After Dark showcase alongside RVG. LOST TALK slowed down to write and produce its first LP, SYMBOL/SIGNAL, released on vinyl/digital through Spooky Records in Feb 2018. The album was recorded at Max's Cellar Sessions Studio by Max and Steven, who worked to complement the themes dealt with throughout the album, lending substance and extracting the true essence of the band for a sound that is as consistent as it is unpredictable.
Following this Lost Talk completed a tour playing most major Australian cities before returning to Melbourne for later launch shows with High Tension and Pagan, and have since had the fortune of sharing the stage with Rocket Science and Wax Chattels.
In Feb 2019 Lost Talk released "Selfless Shame Promotion," a live cassette on Wild Animals Records (limited run with bonus packaging). It is a multitrack recording of the "Symbol/Signal" launch, features three drummers and three previously unreleased tracks, and is everything you could expect from a live recording - minor technical difficulties, inappropriate heckling, and above all captures the power ferocity of the band.

After calling it quits in April 2019 Lost Talk decided to bookend their collaboration by releasing their second and final LP, the aptly named Tenterhooks, which had already been recorded by that point, again at Max's Cellar Sessions Studio by Max and Steven. The release sees the band gaining more focus than their previous efforts, and while still retaining the chaotic nature of their previous LP sees the band working more cohesively as a whole, ironic given the dissolution of the group.
Lost Talk - 'Symbol/Signal'
Black Vinyl
12 inch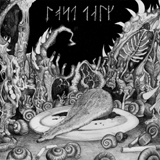 Australian Buyers Only
Overseas (Europe, UK, USA etc)
Lost Talk - 'Tenterhooks'
Hand Silkscreened Cover
Black Vinyl
12 inch


SOLD OUT