Sun God Replica

Sun God Replica formed in 2010 when Link McLennan (singer, songwriter and guitarist for the Bakelite Age / Meanies) and Lochie Cavigan (Bakelite Age) decided to take the best elements from 60's/70's heavy rock n roll and fuse them into a heavy garage psych band that would become SGR. They opted for a 3 piece line-up deciding that it was a nasty and pointy shape as opposed to the square-ness of a 4 member line-up. Besides, Cream were a 3 piece, and that was enough for them. They then recruited former Monochromes member Tim Pickering (aka. Lance Swagger) on bass to complete the power trio. In 2011 they recorded their debut 12" LP Primitive Clockwork at an old morgue specially converted into a studio for the album by former Monochromes frontman JJ Symon. The record received much critical praise but the Sun God Replica boys knew they couldn't rest on their artistic laurels. Not if they wanted to create a Sun God sonic pandaemic. Along with engineer Loki Lockwood they sweated over a hot mixing desk like alchemists over a cauldron and produced The Devil and the Deep; a nugget of rockin' riffin' gold.
Buy now
CDS
VINYL
12 inch
Sun God Replica - 'Grandular Fever'
[French Pressing, comes with a digital download card]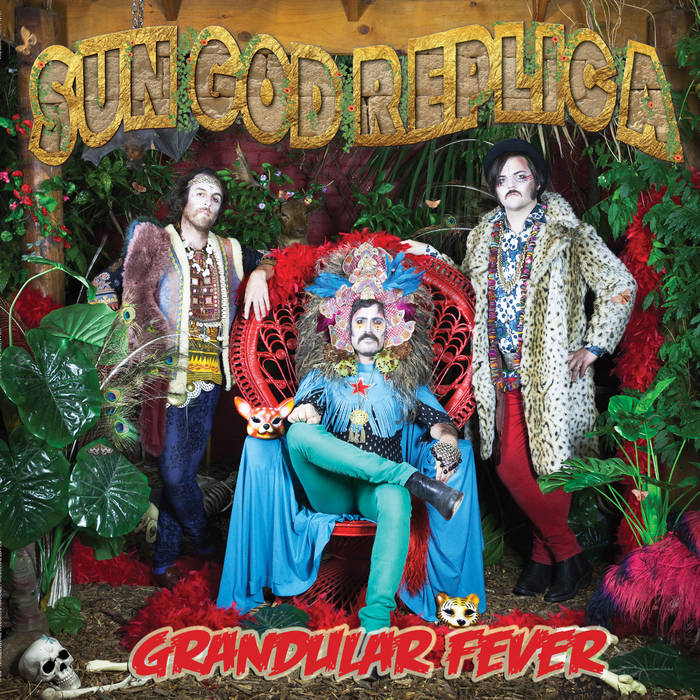 Australian Buyers
12 inch
Sun God Replica - 'The Devil and the Deep'
[comes with a digital download card] Limited Edition run of 300.

Hand Numbered Black Vinyl