The Braves

Rock 'n' roll and occultism has always had a romantic relationship. The Braves adore the darker, more mysterious side of music and their latest album 'All Through Paradise' captures this relationship almost physically, each note and melody planting little sickly seeds at the base of your spine.
Formed late 2012 on the outskirts of Melbourne, Australia The Braves came cutting through the surrounding noise to create a sound and a notoriety that is uniquely their own without jumping on coat tails and band wagons or rehashing what's already come.
Starting with Djesse Bolte on bass and Kelly Watson on guitar, the two quickly found the drummer to suit in Ethan Leversha, the last outcast in town. With a mission statement fully in tact and the sound to follow The Braves started playing every opportunity they got from warehouse parties to backwash bars, artist collectives to the deserts and anarchist centres while building the ever-evolving mould of their music.
After catching wind of a 4 track demo 3PBS FM (a Melbourne radio station) they listed them as one of the most exciting up and coming bands of 2014. They continued honing they're sound before putting out a series of self funded lo-fi oddities titles including 'Taipan' 10'' single (2014), 'South Paw Product' (2014) 'Suspiria' 2 track (2015) and 'Contra Totura' E.P (2015) In 2016 after Kelly and Djesse paid a quick reconnaissance to Europe they crossed paths with Spooky Records to produce the album All Through Paradise (2017). An audio gazette of the life and times of The Braves which reaches into the brooding depths of middle eastern magic to the paranoia's of Berlin street hassle and the everyday encounters / trials we meet.
With 4 star reviews for 'All Through Paradise' and what was dubbed to have "the ominous sonic atmosphere of The Birthday Party spiked with the jarring blues intensity of The Gun Club and the evocative noir imagery of Jim Thompson" The Braves return with Loki Lockwood back at the production helm, careening new sounds from the lads with a new album "Carry on the Con" due Feb 2018.
12 inch
The Braves - 'Carry on the Con' (out now)
[French Pressing] - Black Vinyl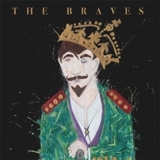 Australian Buyers Only
Overseas (Europe, UK, USA etc)
Spooky051 CD ALBUM
The BRAVES - 'All Through Paradise'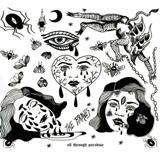 BANDCAMP

The BRAVES - 'Black Mass 7inch'