Blowers


BLOWERS ARE BACK with the new album BLOWN AGAIN - pre-order Now - [shipping 14/4/23]

BLOWERS serve up another 14 slices of raw, lo-fi garage punk with their second LP, 'Blown Again'. Out April 14, 2023 on vinyl, tape & digital via Chaputa! Records (worldwide) & Spooky Records (Australia).
Capitalising on their triple vocal attacks, blistering guitars and fast-paced tunes, 'Blown Again' is a tongue-in-cheek earworm of a ride laced with sick humour and shit-stirs. The album is chock full of "fuck you" themes, with tracks like 'Shut The Fuck Up', 'Wipe My Ass', 'Slice'n'Dice' and 'Bad 4 U' that jump off the record and grab you by the throat.
Take a dive into the warped minds of Kit Convict (vox, guitar), Andrew Porter (vox, guitar), Shannon Aswell (vox, drums) and Pip McMullan (bass), who are often found in the dive bars and shit-holes of Melbourne, Australia.
The album was recorded in a shared warehouse space on a cold and blurred weekend, engineered & mixed by Loki Lockwood, and mastered by Mikey Young.
'Blown Again' is Blowers' second LP, which follows up from their debut self-titled LP released to acclaim & disgust back in 2021 (Chaputa! Records/ Spooky Records).For fans of: The Spits, Jay Reatard, Wipers, Mean Jeans, Oblivians, The Cavemen, Wet Ones.

Blowers: "So damn fast, so damn raw, so damn rude, so damn good."

A-SIDE
1. Sick of You
2. Bad 4 U
3. Happy Birthday
4. Shut the Fuck Up
5. Fidel Gastro
6. Slice n Dice
7. Youth
8. Hayley

B-SIDE
9. Fatal End
10. Wipe My Ass
11. Ashamed
12. Let's Age Disgracefully
13. Roid Rage
14. Natural Loser

BLOWERS are
KIT CONVICT (Guitar+Vocals)
ANDY PORTER (Guitar+Vocals)
PIP MCMULLAN (Bass+Vocals)
SHANNON ASWELL (Drums+Vocals)

Engineered & mixed by Loki Lockwood
Mastered by Mikey Young
Art by Mik Baro
Available on Black and Violet vinyl
Distributed in Europe by CHAPUTA RECORDS

Contact / Bookings: bookablow@gmail.com
Instagram:
Facebook:

Blowers' live shows are a blast of raw punk power. So far, they've shared dive bar stages with Black Lips, Cosmic Psychos, The Schizophonics, The Cavemen, Six Ft Hick, Hard-Ons, Sore Points, Mean Jeans, No Fun At All, Grindhouse, Private Function, and Stiff Richards, and jumped on festivals incl. Munster Raving Loony Party, Do The Pop, Down South and River Rocks. Catch Blowers live on tour in Europe across Spain, Portugal, France, Netherlands and Belgium in May and June 2023. Full tour dates here.
Pre-Order 'Blown Again'
[shipping 14/4/23]
For European Buyers we suggest checking
CHAPUTA RECORDS

VINYL
12 inch - Violet / Black
Blowers - Blown Again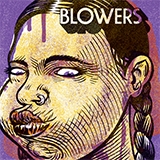 12 inch -
Mint Green SOLD OUT
Black - last copies
Blowers